A Digital Workspace that puts everything in one place.
How A Company transforms its Business from Offline to Online.
We notice that there is still have many SME company still using Microsoft Word or Excel file to record all the company data. In fact, there is existing tools to use to improve the company's internal management system.
The best new way to be on the ball about everything. Along with all the other cool tricks it can do, Kintone is an awesome digital workspace, which can collaborate with teams, deck out your profile, create project-specific portals, crystallize your knowledge, and evolve beyond emails.
Easy to Search
Unlike email, finding exactly what you need is a cinch in Kintone. Refer back to old conversations to onboard new employees in a SNAP!!
Device Friendly
This intranet can go out wherever you go. Stay on the same page on any device or desktop. When a salesperson meeting a client outside, the person in charge can reply to their team members when they are on the go. You can access it on your mobile, tablet and etc. YAY!
Ease to Communicate
Create multiple "Space"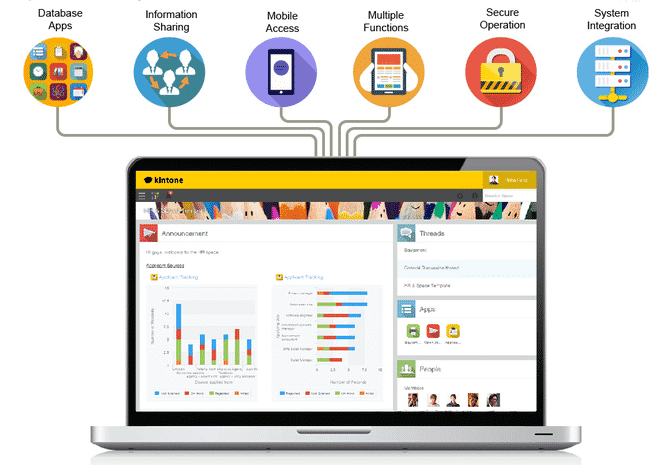 You can make for whoever and whatever you want. Whether you're working withing your department, on a specific project, or prepping for an event, you can choose who sees what and let users follow Spaces they like. It is much easier to monitor and get involved in a specific task.
Not only that, but you can also inform everybody on your team at ONCE!
Share updates, upload resources or brainstorm your next big idea. When you do it in Kintone, anyone you want can see it, get up to speed, and add their voice. It's all automatically archived, so retracing your steps is simple.
Integrations & Plugins
Integrations and plugins help you supercharge your Kintone digital workspace. When you have any existing software tools that using in your internal company, you can add the apps into the Kintone software, it will power up the apps and get more functionality.
Not only that… But Pre-Build Applications!
There is around 1,000 + new applications are being built and deployed every day by customers and Kintone Team. Use the library of template applications to help you get started right away!
ARE YOU READY TO KICKSTART?
Find out more here at https://asiaquest.my/kintone/en/index.php